ABOUT THAT CRAZY GUY WITH A PEN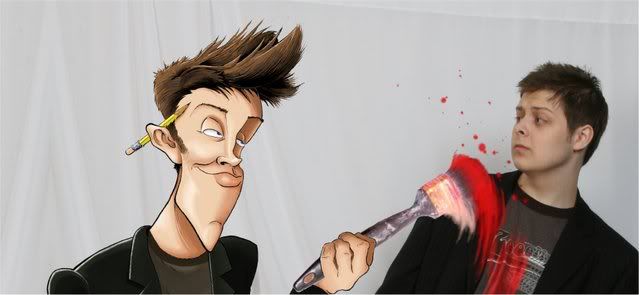 Warrington, United Kingdom
LEGEND HAS IT ADAM WAS BORN TO DRAW! HIS FIRST TOY WAS A PEN AND A SKETCH PAD. SINCE THEN HE HAS NEVER LOOKED BACK. ADAM IS A VIBRANT CARICATURIST, WHO HAS DRAWN ALL HIS LIFE. HE IS LOADED WITH TONS OF EXPERIENCE AND ONLY USES HIS INCREDBLE POWERS FOR GOOD NOT EVIL. (MOST OF THE TIME!)
View my complete profile

Friday, October 31, 2008
Coming soon Drawing From The Font Line Halloween Special.
Just when you thoght Halloween was over! thay draw you back in!!!
Posted by

Adam H
at 2:08 PM
2 comments:

Wednesday, October 22, 2008
Finally a new vid. been experiencing problems with my computer would of posted this ages ago, but anyway now there back, and i have a backlog of vids to upload for your enjoyment, so expect them regularly, unless my my computer breaks again!!!!!!